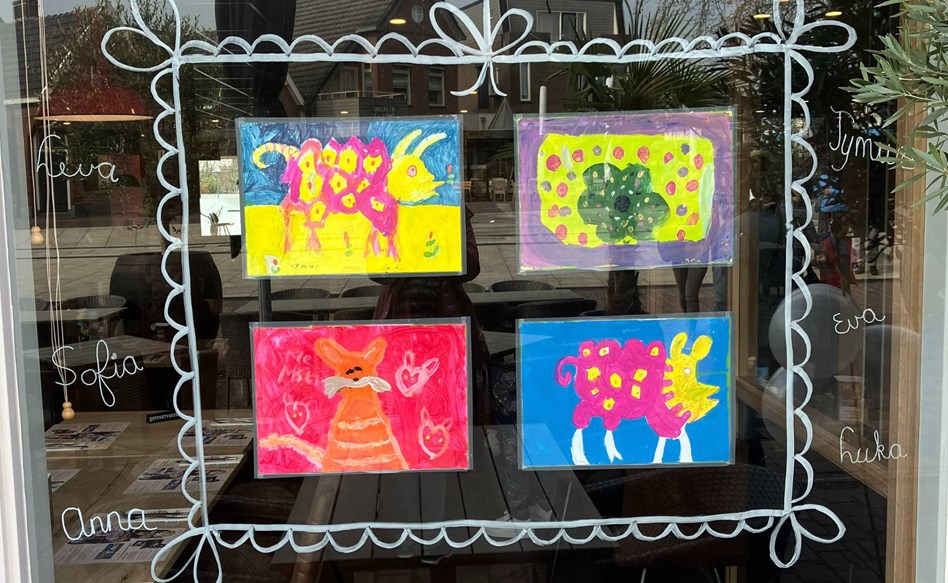 Holten, the Netherlands
Lovely collaboration for Ukrainian children
Tuesday, April 18, 2023
The Netherlands | A few weeks ago, we delivered a big donation for art classes for Ukrainian refugee children in Holten. A lovely collaboration that resulted in a small but heartwarming exhibition which had its festive opening on April 12th.
How it started
The children of the Toof, a temporary home for Ukrainian refugees in Holten, receive weekly art lessons arranged by Frederique Zweers. These lessons are taught by Francien in't Veld , a Dutch artist, and Marina, a Ukrainian girl, and are incredibly important to the children. Not only does it offer them a chance to express themselves and learn more about art, but it also offers a welcome distraction from their hardships.
To teach these classes and to offer the children a chance to experiment with different mediums, you require a lot of materials. So, when Francien attended one of the workshops at our Experience Centre and discovered our foundation, she immediately contacted us. And we are so happy that she did!
The collaboration
Art classes like those at the Toof in Holten match perfectly with our dream to support good creative education for every child so we were more than happy to support these classes with our materials.
With these new materials, they hosted a special lesson about Ukrainian folk artist Maria Prymachenko. First, they showed the children a short movie about the artist, in Ukrainian. Then they gave the children a palette with bright colours similar to the works of Prymachenko. Marina
The classes are taught by Marina Sheveleva, a Ukrainian girl who studied Art back in Ukraine when the war started. Thankfully, she is able to continue her education online and teaches the children in her spare time. Marina is very dedicated to the art classes and the kids adore her! The exhibition
To celebrate the art of the children and that of Marina, Francien and a couple of others arranged an exhibition. The opening was on April 12th, which just also happened to be Marina's birthday.
The work of the children was displayed on the windows of pancake restaurant "De Pannenkoekenbakker" in the centre of Holten. Four works of Marina got their own spotlight a little further into the city centre.
The day ended with a delicious pancake dinner at the restaurant where each child also received a small backpack with some art materials for them to take home. All in all it was a beautiful day!