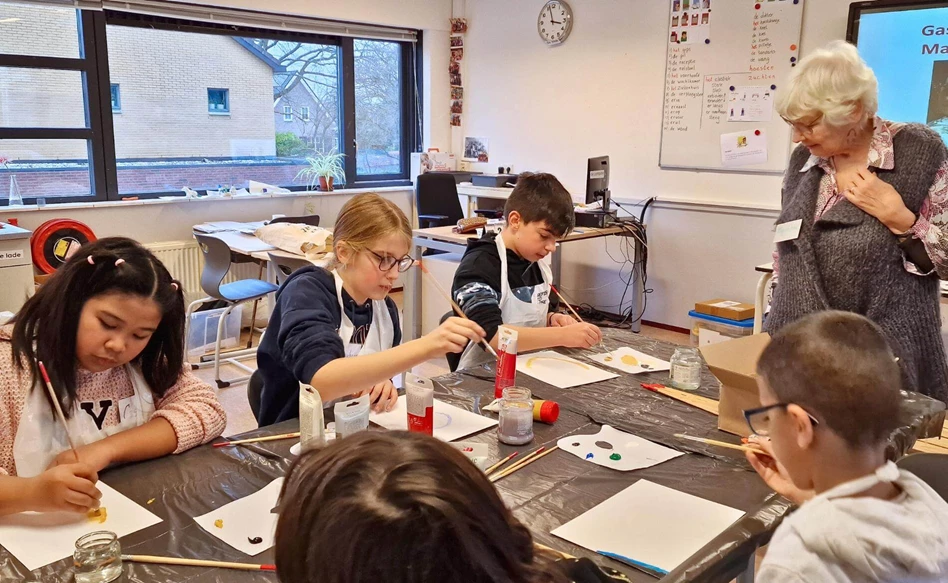 The Netherlands
IMC on tour: art classes for newcomer students, all around the Netherlands
Monday, September 25, 2023
The Netherlands | "Wow! You can make all the colours from just these three?!" Asked Leylaa, one of the children at the language school for newcomers in Amsterdam, the Netherlands. The exciting painting workshops hosted by IMC On Tour, made possible in part by the Royal Talens Foundation, have amazing positive impact on not just Leylaa, but on all the children who take part. In this blog we will tell you all about IMC On Tour and their amazing work in cities around the Netherlands.
IMC On Tour: what is it?
IMC Weekendschool is one of the foundations that we regularly support with art materials. They offer inspiration-based education to children between the ages 9-14 from underserved communities. They provide the students with skills, knowledge, and courage to find a place in society that matches their capabilities. It is a beautiful foundation we are proud to support!
Within IMC Weekendschool is a program called "IMC On Tour". This program provides weekly supplementary education for "newcomer" children ages 9 to 12 at special language schools. The stories below are just a few samples of the many art classes IMC has done throughout 2023.
Amersfoort
In Amersfoort there was a very culturally diverse group of ten children, coming from everywhere in the world. The teacher, Magdalena de Coninck, taught two classes: painting a portrait and painting a landscape. In both lessons, Magdalena first explained more about the subject and displayed some examples. With these examples, the children were asked to share what they thought, how it made them feel, and why they liked or disliked an artwork. After that, it was time to get painting! During the painting the children were silent and fully focused on creating their masterpieces.
In the image you can see one of the students proudly presenting her artwork. Haarlem
The children in Haarlem attended two very different classes. In the first class, taught by Marion Boon, the children had to make a self-portrait. They crowned themselves as kings and queens and it was apparent, they had a lot of fun!
The second class was taught by Rudolf Valster and touched upon abstract art. When showing the work of Jackson Pollock one of the children, Safiullah, wondered: "is this made by a baby?". After that, another girl walked up to the board and pointed to a corner of the painting and said she saw an owl. Soon all of the children started seeing things in the artwork: a horse, a ghost, many many eyes and even an old man! Then they got the chance to make their own abstract artwork. Mouhtassem was especially proud of his work and displayed it to the class. "Is it a unicorn?" "A cowboy?" the class asked. "No," Mouhtassem explained, "it is man and a woman dancing."
What do you see in Mouhtassem's artwork? Laren
In Laren the themes for the classes were very varied and offered the children a broad introduction to art. One of the themes was "Mothers" where the children were given supplies and encouraged to create freely. This yielded beautiful results which can be seen in the photo.
It can be challenging to ignite a spark of imagination and wonder in children who have already gone through a lot. That makes these art classes even more special, and above all, crucial to the emotional development of these children. Language often forms a barrier in explaining how you feel, who you are and who you would like to be. Art, in turn, is a beautiful and invaluable tool to express these complex feelings. We are very happy to keep supporting IMC On Tour and their wonderful work!