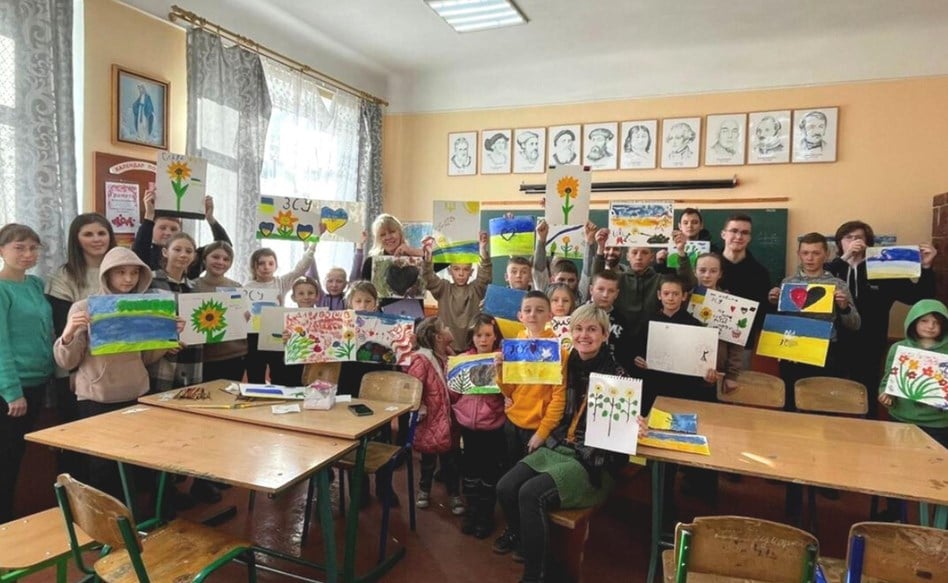 SPACE ART Scotland X Royal Talens UK
Art workshops in refugee hubs Ukraine
Sunday, May 7, 2023
Ukraine | Last week we received stories and photos of an amazing collaboration between our UK office and charity organisation SPACE ART Scotland to support the children in refugee hubs within Ukraine. You can read all about it on this page.
Bags of colour, and so much more
In spring 2022, the Royal Talens Foundation filled 10.000 backpacks with colourful art materials for Ukrainian children. You can read more about that here and here. These backpacks were spread all over Europe, including to our office in the UK. There, they took it to a whole new level.
The UK office collaborated with SPACE ART Scotland, a Scottish charitable organisation that promotes access to the creative arts for those in custody and subject to the justice system. Together with Royal Talens UK and a few other companies, they collected many art materials. Besides the bags of colour, Royal Talens UK also sponsored many tubes of acrylic paint, watercolour sets, brushes in all sizes, canvas boards and even some oil colour and can be seen in the photos below.
"Those children have seen demons"
Mary-Ann Orr, the Creative Arts Director of the charity who wears the cap of both art teacher and art therapist, personally transported the materials over to Ukraine. There, they were given directly to the young children in orphanages and refugee hubs. They also organised several creative events for the children, who must live in conditions that adults can barely cope with, all suffering from the emotional trauma of war.
Once in Ukraine, people from the military there helped deliver the supplies. In their words, "those children have seen demons" and this gave them a lot of much needed joy. "Will you hug me please?"
Mary-Ann also included her own experience with the kids there:
I cannot begin to tell you how much joy your kind donation brought to the lives of the many children I met. Most of whom had not seen a tube of paint, coloured pen or had the privilege to engage in a creative activity for over a year now. I would like to thank-you on behalf of those children, but I would also like to add my personal thanks, as your kindness enabled me to receive gifts that are worth more than a Picasso painting; A young girl (about 6 years old) approached me with tears in her eyes, waving her artwork in one hand and a mobile phone in the other. She pointed at the screen. The Google translate message read: "will you hug me please?"
Below you can see photos of Mary-Ann's journey as well as photos of the kids during the workshops held in refugee hubs in Kyiv, Lviv, Ternopil, Polonychi, Travneve and Kholomiya.