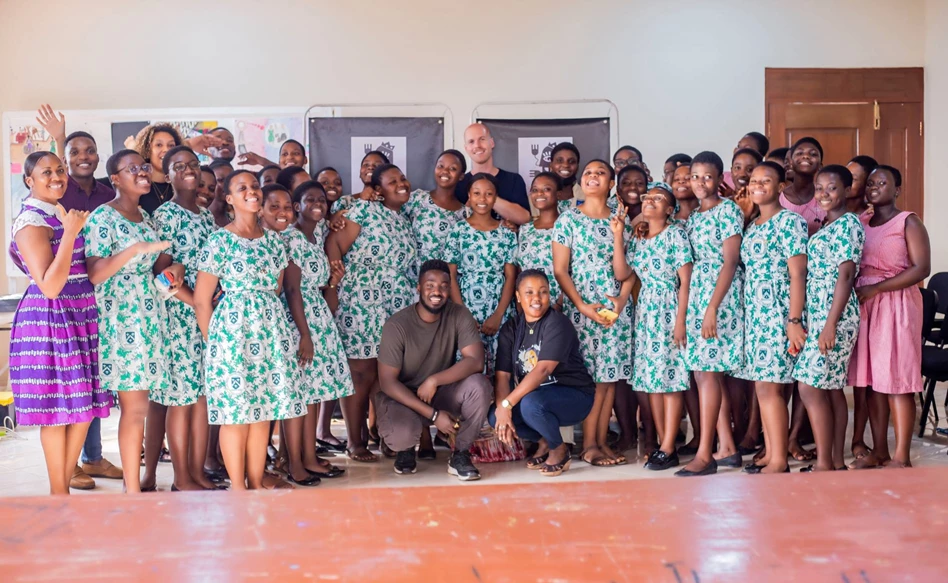 Takoradi, Ghana
Art workshop at the Archbishop Porter Girls' Secondary School
Monday, March 6, 2023
Ghana | Earlier this year we started a beautiful collaboration between the Royal Talens Foundation and Thamon van Blokland and Edwin Otta. They arranged a workshop at the Visual Arts Department of the Archbishop Porter Girls' Secondary School in Takoradi, Ghana.
The students were given art materials and the assignment to make a visual interpretation of the way that artists are viewed in Ghanaian society. Thamon and Edwin discussed the works together with the students and debated about what it is like to be an artist and how art can make you feel.
Thamon was impressed with their works and said "some of the paintings that they made were really stunning and really reflected the message of the assignment".
We are very happy to announce that there will be more workshops to follow in Ghana in collaboration with Thamon and Edwin!
Thamon van Blokland
Thamon van Blokland is a creative producer and graphic designer from the Netherlands with over 6 years of experience in doing large-sale community art projects around the world. During these years Thamon has gained a lot of experience working in the arts, by hosting workshops, producing large artworks in various places and fundraising for many causes. Edwin Otta
Edwin Otta is the founder of Indelibl Arts which has been at the forefront of emerging African art for the past 7 years. Indelibl has a wide range of activities: from curating art exhibitions and fairs, to sourcing art for private and corporate collections, to developing art projects and residencies as well as art events. Edwin is also the founder of Arthaus, a new cultural centre in Ghana which supports Ghana's art scene.